QUALITY CONCEPT
The company has a philosophy to monitor every aspect of its operation and strive to bring about every feasible improvement in these operations in order to continue its journey on the path of growth.
TOTAL QUALITY MANAGEMENT (TQM)
The firm has worked on all major aspects to bring about an overall improvement in its performance. These are the core principles adopted by the firm to ensure Total Quality Management (TQM) in its operations: 
Customer-focused
Total employee involvement
Process-centered
Integrated system
Strategic and systematic approach
Continual improvement
Fact-based decision making
Communications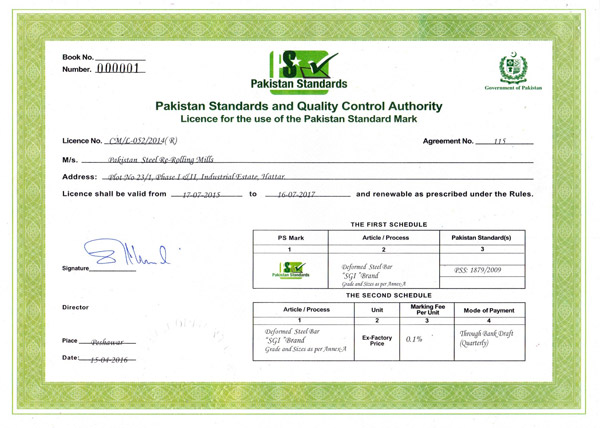 At SGI operations support one another by generating product synergies and sharing expertise. Knowledge sharing lies at the heart of our management philosophy. Through knowledge sharing we achieve continuous improvement SGI is committed in providing ultimate satisfaction to its community. SGI works jointly with its consumers and suppliers to attain the highest quality satisfaction possible through constant monitoring at each production stage of the steel bar, through an in house testing well-equipped laboratory, and non-conformance identification before the delivery of the product.
The Quality Assurance department consists of technical professionals who use modern analytical equipment to test and certify that the steel is of the exact international quality and the grade desired by our consumers.
The Total Quality Assurance facilities include:
Spectrometer Laboratory
Wet Laboratory
Hydraulic Universal Testing Machine
Rebar Size Chart

Bar size

 

Metric size

Linear Mass Density

Nominal diameter

Nominal area

(Lbs. /ft.)

(kg/m)

(in)

(mm)

(in²)

(mm²)

#2

#6

0.167

0.249

0.250

6.35

0.05

32

#3

#10

0.376

0.561

0.375

9.525

0.11

71

#4

#13

0.668

0.996

0.500

12.7

0.20

129

#5

#16

1.043

1.556

0.625

15.875

0.31

200

#6

#19

1.502

2.24

0.750

19.05

0.44

284

#7

#22

2.044

3.049

0.875

22.225

0.60

387

#8

#25

2.670

3.982

1.000

25.4

0.79

509

#9

#29

3.400

5.071

1.128

28.65

1.00

645

#10

#32

4.303

6.418

1.270

32.26

1.27

819

#11

#36

5.313

7.924

1.410

35.81

1.56

1006

#14

#43

7.650

11.41

1.693

43

2.25

1452